"Can you tell me what this is worth?"
I have forgotten how many times I have been asked to provide a value for a jewelry item that someone owns.
I am not sure if it numbers over a thousand, but I know it has to be north of several hundred times over the years that I have been asked this question.
My standard answer is "It is worth what you paid for it. If you want a professional appraisal I charge $60 an hour, minimum two hours to evaluate and determine the value."
"But I don't want an appraisal, I only want you to tell me what it is worth."
I will not go into the soliloquy that goes through my head at this time as I want to try and keep this post at least PG rated. But I normally try to impress on them that what I say is a legally binding contract and as such I can not and will not make a "guess" just to make them happy.
"Really, I don't want to pay for an appraisal, so can you just tell me what this is worth or not?"
At this point I ask if they are just asking for my opinion, or for my educated opinion. There is a big difference between the two. At this point, I repeat what I said above: "It is worth what you paid for it. If you want a professional appraisal I charge $60 an hour, minimum two hours to evaluate and determine the value.".
So for this reason, I am going to share a few points about why I will not just guess a value for you. This will break down into several parts, Identification, Valuation, and the Appraisal.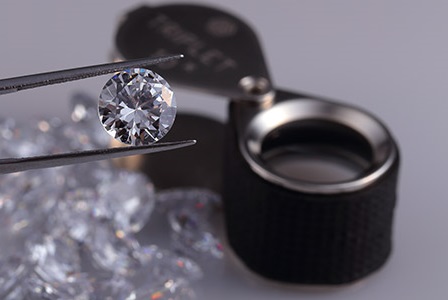 ---
The first part is IDENTIFICATION.
I will start by stating up front that I do not yet have my coursework finished for the Graduate Gemologist® Program from GIA. I am collecting the very expensive equipment needed to finish the degree. I have been educating myself for decades and have spent thousands of dollars on learning how to properly identify gemstones and metals (And I still am working on educating myself) so that when I tell you that I believe that the item you are holding is made from a certain metal and what types of gems are in it, you can believe me.
Without knowing absolutely what the component parts of an item are, there is no way to place a value on it. You are not just asking my opinion, you are asking for my educated opinion. There is a big difference between the two. This is where education comes in.
I have been collecting resources for years that allow me to identify, verify, double check and eliminate all possibilities until I can say with certainty what the gem is in your hand. Any appraiser will tell you that is important because there are a lot of gems out there and we need to be able to identify them if we are to value an item holding that gem.
---
The second part is VALUATION.
This is another area where education is important. Now that we know what your items components are made from, what are the values of each component individually and what is the value of the entire piece?
It is not as simple as adding up the values of the components. For example, one time 3 siblings came into the store where I worked with lawyers in tow. It seemed an aunt died and they were squabbling over the value of what was left without a will. The one item of value was a diamond and platinum bracelet (probably 12 carets total weight in diamonds) which the store owner was requested to cut into 3 sections. One for each of the siblings.
As none of the other salespeople, or the jewelers would do it, the task fell to me. So I took a set of nippers from the back, went out to the sales floor and cut this exquisite 19th century Enameled Diamond Bracelet by Cartier into 3 chunks. I estimate the scrap value of each piece to fall into the $800 to $1,000 range.
Just the parts were worth a small amount. I had seen similar Cartier bracelets in auction catalogs that sold for at least $80,000.
There is a lot more to value than the price of the parts.
Many factors are important. And to appraise an item, I must be knowledgeable about many things like the quality of the gems, how they are cut, inclusions, primary, secondary and tertiary colors, florescence, birefringence, natural or man-made, who made it, when, where, who owned it, what similar items have sold for in my area, are there laws about ownership that must be considered?
Identification is just the easy part. Knowing how to put a value to something is the hard part. What might look to you like a $20,000 gem to you, might, in reality, be worth $2,000. Or, if you are scammed, $2.
And yes, I had to break the news to a woman who came into my store asking me to verify that she got an awesome deal during a trip and had paid $4,000 for a glass 'emerald' in Brazil.
I have seen pieces of jewelry and gems sold by the large jewelry store companies and small one location stores that were not worth a fraction of what they said the item was worth. I have also seen, though rarely, a store sell an item, mostly estate items, that were worth much more than they sold for.
All because they did not consult with someone who knew how to identify and appraise an item.
Many things to consider is what the item might sell for IN YOUR AREA. What might be a $800 item where you live, might be worth $670 in another part of the country. Or $1,158 in yet another part. Location and the surrounding market matters a lot in valuation.
Also, does it have a story that goes with it? items owned by famous / infamous people can be worth more (or less) depending on the story. What would you pay for a simple gold band owned by some guy who lived down the street? Would you pay more if that ring had been owned by Richard Attenborough? How about Elvis Presley? How much would you pay knowing it was worn by Edward Theodore Gein?
---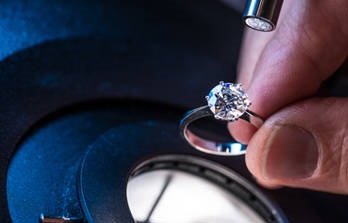 The third part is the APPRAISAL
There are so many variables. And when I have gathered all of the information that I can, weighed, measured, and examined everything, then I write a legally binding document that can be used in a court as a statement of value. I sign my name to each and every appraisal as a professional jeweler. If your appraisal does not have a signature, then it is worthless and means nothing.
An appraisal is a document that describes an item, assesses its relative quality and assigns a value to it. Descriptions usually cover the visible, measurable and analyzable facts about the item (weight, materials, markings). Most jewelry appraisals also describe subjective features such as gemstone quality, relative rarity and overall quality of manufacture.

https://www.jewelers.org/education/choose-a-jeweler/jewelry-appraisers
Jewelry appraisals should not be confused with diamond or gemstone grading reports. Let's start with what a diamond or gemstone grading report is not: It is not a jewelry appraisal or a certificate of the stone's value. The key difference is that a jewelry appraisal is typically used for insurance purposes and any after-purchase care or design follow up. It should not be used as a substitute for a grading report.
A Gemstone Certificate guarantees the exact grade or value of the gem, while a Gemstone Grading Report is a subjective report and offers a grade within a range of values. they are not a jewelry appraisal, but they are important parts of determining the value of the gem components in a jewelry appraisal.
Diamond and gemstone grading reports are provided by laboratories within the jewelry industry. Here are links to the labs that I have had experience with and trust on diamond and gemstone grading reports or certificates:
American Gem Society (AGS)
Gemological Institute of America (GIA)
EGL USA
It's important to ask if the company producing the gem report or certificate has a stake in the stone's price or profit. Many large retailers will pay companies to produce "reports" and "appraisals" that have values that inflate the price that they show you in the store to convince you that you are getting a really good deal. Do not believe these. Always make sure the grading lab is independent of diamond and gem suppliers, mines or jewelry retailers.
The majority of appraisals done today are for insurance replacement (also called "retail replacement") purposes. The point of insurance is to return the value of a lost, stolen, or destroyed item. Therefore, insurance appraisals reflect the cost of replacing an item of like kind. Appraisals done on other types of jewelry or for other purposes require more advanced appraisal training. so I will not go into those now.
Unfortunately, there are no U.S. laws or regulations that set any type of educational standard, training, or require certification to become a jewelry appraiser. However, there are industry standards for appraising.
Intentionally, or unintentionally over-valuing, or undervaluing items on appraisals is considered illegal under Federal Trade Commission (FTC) guidelines and unethical by all nationally recognized appraisal organizations. The value of a piece of jewelry should not be inflated beyond what is considered a fair retail selling price. My opinion in writing or verbally, can be considered a legally binding contract between you and me.
Whether done intentionally, or not, a incorrect valuation is something that the appraiser can be taken to court over.
Let me repeat that: "Whether done intentionally, or not, a incorrect valuation is something that the appraiser can be taken to court over."
Remember what I wrote at the start of the post?
"It is worth what you paid for it. If you want a professional appraisal I charge $60 an hour, minimum two hours to evaluate and determine the value."
Do you understand now why I will not guess at a value? It not only protects me, but you as well. It is important to know who is appraising your jewelry and that these appraisers have the correct education to make the right valuation.
An appraisal is something you hope you never need to use. As someone who has written appraisals, I also hope you never need to use it. But…
If you do need to use your appraisal for an insurance claim, you need all the information to be correct and the values recorded correctly so that you can either replace your item.
Prices vary with each appraiser but if they have the correct education and training you will find that these differences will be minor. Depending on where you live, the hourly cost of appraisals can vary from $40 to $120 per hour. I suggest working with an appraiser who works on an hourly basis and not per item. It is my opinion that grading items for a fixed cost can lead to rushing and that is not what you want.
Do not ever work with an appraiser who charges a percentage of the items value. That is a common way to gouge you with inflated values.
So hopefully I have given you a little bit of education about why appraisals are so important. If you have any questions, please feel free to ask.